Dolphins & You Activities!
Our Dolphins and You ohana are committed to minimizing impact on wildlife and fragile Hawaii ecosystems, along with actively promoting environmental awareness, so that snorkel tours will be around for generations to come.
Take Dolphin Adventure >>
Map & Comparison >>
Ocean Adventures
Island Tours & More
NO PROMO'S will work for Pearl Harbor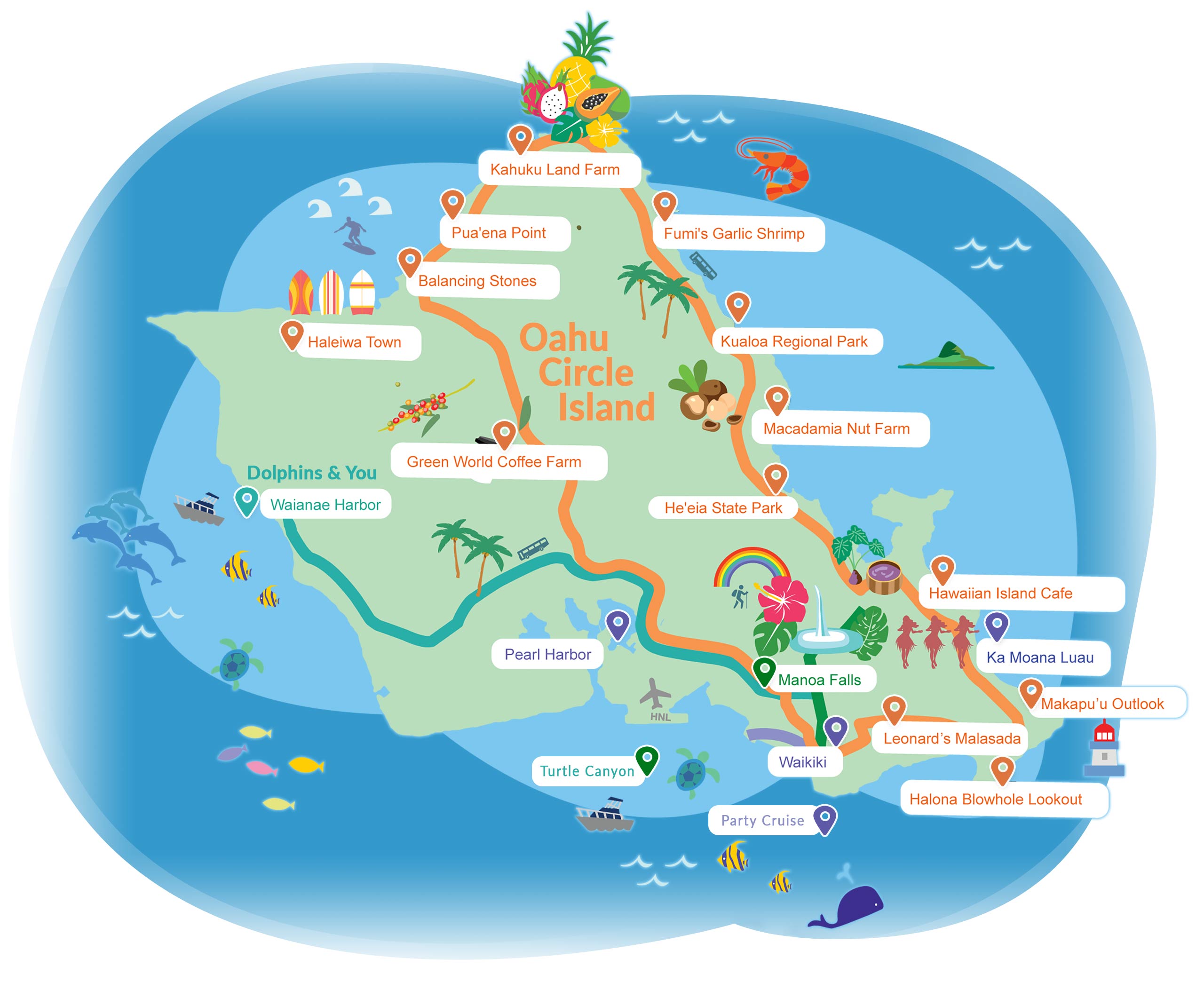 Oahu Dolphin Cruise Tours
See Dolphins by Boat Tour in Oahu
Though you may be able to spot dolphins from land on a clear day, or you might get lucky and see some while snorkeling at a public beach, a boat cruise is without a doubt the best way to get the true dolphin experience in Hawaii. Here's why: From land, it's not possible to get as close to dolphins as you would on a boat. Spinner dolphins enjoy 'surfing' along the waves created by a boat, so it's very common to see dolphins cruise right next to a boat. And waiting for a pod of dolphins to show up in one of Oahu's many bays while swimming there is a long shot. Oahu dolphins are in a different spot every morning. Additionally, trying to find dolphins independently can present safety risks, since areas where dolphins are sometimes found tend to be highly trafficked by boats. So entrusting a an established and eco-friendly boat cruise is the best way to maximize chances of safely seeing dolphins!
Dolphins and You Cruise is filled with Oahu Ocean Activities Dolphins and You is Oahu's original dolphin cruise, with roots dating back to the 1980s. Its Hawaiian crew is made up of licensed captains with a keen eye for wildlife, traditional hula dancers and professional lifeguards. And along with transporting guests to the natural home of Oahu dolphins for unforgettable interactions with the animals, the half-day tour packs in all of the best parts of a cruise. After interacting with dolphins in their natural environment, guests are taken to a second snorkel location with sea turtles and tropical fish. While there, they can take advantage of stand-up paddle boards, sea kayaks and a 20-foot inflatable waterslide.
Lastly, Dolphins and You guests enjoy live hula performances and a Hawaii taro bun cheeseburger lunch. Private Charter Cruises Available Joining a regularly chartered tour is amazing enough, but imagine having the whole cruise to yourself. It's possible on a Dolphins and You private charter. A private Dolphins and You cruise is an ideal way to spend a special occasion. From a birthday party to a wedding, the Dolphins and You boat is the perfect way to spend the day. Follow the regularly schedule of a Dolphins and You tour or create your own itinerary from scratch. The cruise is fully customizable for private charter bookings. Additional add-on options of professional photography service and luau buffet are available. The private Oahu dolphin cruise can accommodate groups of up to 75 passengers. It is recommended for groups of 15 or more.